Horseback riding lessons
At Pegasus Hill Farm, we teach horseback riding lessons 7 days a week! The students in our lesson program range in riding ability from beginner to advanced, and we teach all ages, from child to adult. We have a range of school horses and ponies to accommodate all sizes, ability levels, and goals of our students. We offer private, duet, and group riding lessons at various times throughout the day, depending on the needs of each student.
Students new to our farm will ride in an initial private lesson designed to evaluate the rider's optimal placement in our program; we will determine the coach, horse(s), and possible group/duet match, and we will make recommendations accordingly. Our English riding lessons focus on dressage and hunter/jumper skills. Additionally, students learn basic horsemanship: how to groom, tack up, and safely lead your horse, with additional emphasis on natural horsemanship techniques to ensure a good relationship between horse and rider on the ground as well as in the saddle.
In addition, our riding instructors offer coaching at off-site horse shows. If you desire to succeed in the show ring, we will help you set and attain appropriate goals. We will take you under our (Pegasus) wing!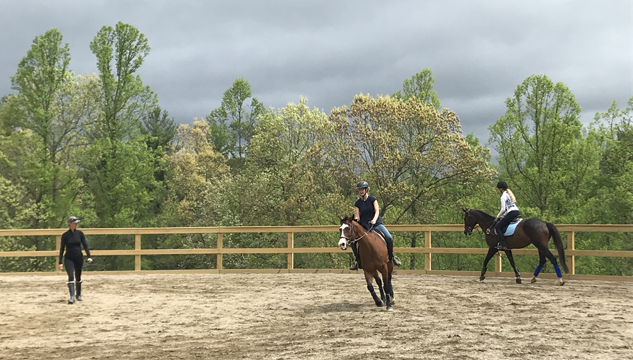 Singles
Private (60 mins) $55
Duet (60 minutes) $45
Group (3 or more riders, 60 mins) $40
Packages (credit card fee waived)

Private package (4 @ 60 mins) $220
Duet package (4 @ 60 mins) $180
Group package (4 @ 60 mins) $160
Let us know if you would like to set your account to autopilot: successive packages can be automatically purchased on your credit card!